PAX Programs Incorporated is in the business of educating men and women about the predicament of gender, the interaction of masculinity and femininity, and the principles of the paradigm of Partnership.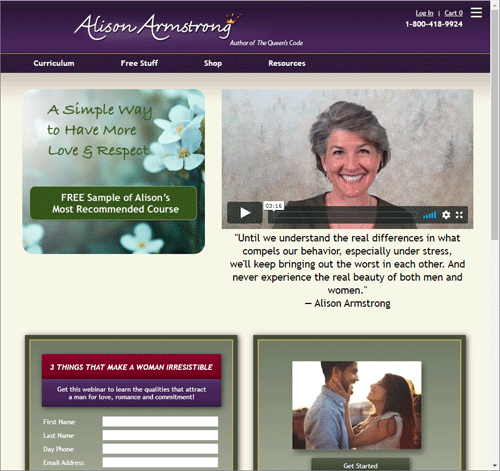 To date, thousands of men and women have attended their live workshops, online webinars and online courses as part of their educational process. To facilitate the enormity of managing the workshop participants, registration requirements, prerequisites, online course curriculum and website content, they turned to us.
Their Needs
PAX was using a popular shopping cart solution but was running into walls trying to get it to work for their very specific business needs. So many of their unique requirements were not supported and customizing the software to the degree necessary would be difficult and create upgrade nightmares.
Our Solutions
Over the last 14+ years, we've worked with PAX to craft exactly what they wanted. Over time those needs have changed and grown, and so have our solutions. We've continuously delivered new features and functionality to keep their system optimized.

Currently, our CyberDesktop Framework provides a complete online solution for their business. All aspects of the website are managed through our various modules, including products, programs and online courses. Our CRM modules provide the functionality required for managing their unique customer interactions, and end-to-end order processing is provided by our e-commerce modules.

Here are some of the custom modules we've provided:
CMS with integrated workshop and product management
CRM system
Product-specific multi-message autoresponders
Extensive reporting
E-Course builder
Product package builder
Promo code creation, redemption and tracking system
Various import/export features
Intricate system of client-customizable workshop/eCourse prerequisites
Integration with third party payment system
Integration with USPS, UPS and fulfillment vendor
Custom crafted affiliate management system
"Len & Destry make a great team! They think about separate areas of code and automation and are therefore great problem solvers when it comes to new designs, efficiency, and utilizing code already created. We have a very customized system thanks to the time, clarity seeking, and testing that CyberDynatics provides. We appreciate how they can maintain and improve old code and processes, and still look to future code and improvements to save time, energy of our staff, servers, memory and money. They are available on the weekends and often solve urgent issues within hours if not minutes of notification."
Michelle Davis, Controller
PAX Programs Incorporated